Zurich – a bastion of housing cooperatives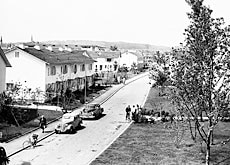 100 years ago, at a time of great housing shortage, the people of Zurich agreed to generous subsidies for housing construction.
No other city in Switzerland has such affordable living space as the metropolis of Zurich.
"100 years of non-profit housing in Zurich is a unique success," says Monika Sprecher of the Housing Association.
Of the 200,000 apartments in the city, 50,000 are so-called "non-profit" with low rents.
Of these, 38,000 were formed by 110 housing associations in Zurich, and the remaining 12,000 were built by the city, foundations or associations.
The reason Zurich was a pioneer in nonprofit housing is because of the city's rapid industrialization since the 1860s.
Zurich became an important transport hub and attracted many workers from rural areas. This led to a huge shortage of living space around 1890/1900.
Housing construction has by no means kept up with development."Living conditions in Zurich in the eighties and nineties of the nineteenth century were catastrophic," confirms Daniel Kurz, a historian from Zurich.
People lived in cramped, stuffy apartments. "You have to imagine it: 7, 8 or more people often lived in these small rooms," Kurz says.
Avoid speculation
The hygienic situation was correspondingly precarious.There was only one tap per house, of course only with cold water."The threat of infectious diseases, alcoholism, but also social unrest has slapped on the necks of city leaders."Something had to be done.
As early as 1892, the Zurich Savings and Construction Cooperative was the first tenant cooperative in the canton of Zurich. The initiator was the Association of Young Tenants of Zurich.
The idea behind it: "Instead of giving themselves over to homeowners and mortgage creditors, tenants put their few pieces together to make something big out of it," Kurz writes in his book Forward Living.
An important sign was put up by the courageous step of the Zurich Savings and Construction Cooperative
Construction boom after the World Wars
In a referendum on April 21, 1907, it was possible to deal with the first urban housing estate "Limmat 1" with 225 apartments.The bill reads dryly: "The city promotes the construction of healthy and affordable housing."
Since then, the city has become a strong partner in housing grants. Cooperatives only had to raise 10% of their own capital; In 1924, this figure was reduced to 6%.
The two world wars were followed by large waves of construction that caused severe housing crises and social difficulties. "Bank interest rates were incredibly high, and building land and building materials were extremely expensive," Kurz says.
Numerous construction cooperatives emerged from self-help. Kurz suspects that this impulse was possible because in these difficult times there was a consensus in all political camps on housing subsidies.
Small floor plans
Cooperatives sparingly managed scarce money.Savings were made where possible.Due to the cost of housing, they had to be practically reinvented.This meant: smaller apartments, smaller floor plans, but still the highest quality of life.
Clever rationalization made it possible to provide families with modest comfort at the end of the twenties of the twentieth century. The installation of bathrooms in apartments was a small revolution for those times.
Since Zurich had large land reserves as a result of the incorporation of suburban communities, large settlements were formed outside the city gates.
For example, the ASIG young workers' settlement cooperative, founded in 1943 by committed workers, purchased land for construction for 5.20 Swiss francs per square meter.
The cooperatives Bau + Holz, the SMUV trade union and, above all, the city of Zurich guaranteed the capital around 10,000 francs.
Immediately after the end of World War II, ASIG was able to hand over the first houses in the Dreispitz estate in Schwamendingen. At various stages of construction, hundreds of apartments were built for the families of employees and police officers.
With around 2400 apartments, ASIG is one of the largest cooperatives in Zurich.
Housing associations in the canton of Zurich
In Switzerland, there are a total of about 1800 housing cooperatives, which have a total of 162,000 apartments (market share 5%).
About 75% of these apartments belong to tenants' cooperatives, whose members are also tenants.
The remaining 25% are social housing cooperatives, but also entrepreneurs and craftsmen.
38% of the 162,000 cooperative dwellings are located in the canton of Zurich, of which 23% are in Zurich itself.
Housing associations in Switzerland
As important industrial locations, Biel and Thun also have a significant share of cooperative housing.
In percentage terms, Biel led in 2000 with a 19.5% share of the total housing stock, just ahead of Zurich with 19.4%.
On Thursday it was 13%.As a thriving business location, Zurich is currently the only city where the share of cooperatives is growing significantly.
Since 1995 alone, Zurich's cooperatives, foundations and the city have built housing estates with 3,000 apartments.On the other hand, construction in Biel and Thun is stagnant.
Source: swissinfo.ch