Dismissal of the representative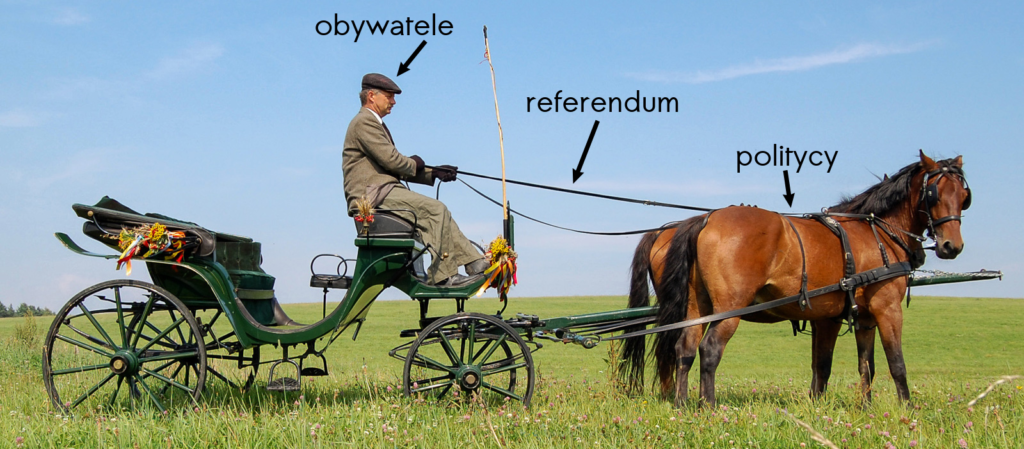 The coachman (citizens) would like to get home, but horses (politicians) dream of running in the meadow and nibbling grass. So what should the coachman do?
A. He should exchange horses until one of the next ones overcomes his instincts and takes the coachman home to B.'s house
. The coachman should use the reins and lead the horses home
If citizens do not have the right to a referendum , the dismissal of a representative seems to be a good solution. But even then, the appeal does not give us anything. It is not at all said that the next politician will be better than the previous one.
On the other hand, the dismissal is very beneficial for the political opposition. Thanks to it, the opposition can fight for election. This is happening at the expense of citizens because it is more profitable for the opposition to fight the rulers than to cooperate with them – for the good of the citizens.
In a direct democracy, an appeal is even more harmful than in a representative democracy. It's like swapping horses every time they don't do what we want. In direct democracy, we have at our disposal the reins – that is, the referendum – through which we control the rules on the basis of which politicians act.
Instead of dismissing a representative, citizens should create such rules that – regardless of who was elected – it does not cause any damage. This is what is happening in Switzerland:
(In Switzerland) there have been only a dozen or so attempts to activate the mechanism (cancellations). Four times (the initiative) went to the vote and only once, in 1862, was it adopted in the canton of Aargau.
In addition, the appointment and dismissal of a representative are elements of representative democracy. This kind of democracy does not work very well.
To read
– Pressure better than a referendum?
– Total recall swiss style